Our first car swap meet as vendors was quite fun.  Although Kyle and his Dad (and lately our older boys) have attended many times, being on the other side of the table was a new adventure.  What was the best thing was seeing familiar faces of friends and former business associates.  Kyle's Dad was with us most of the time, and my parents also stopped by.  Definitely the people involved are what makes any adventure more enjoyable.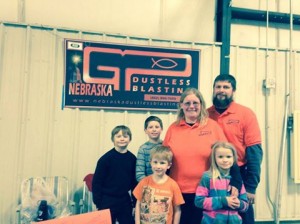 Our older boys were there from 9:00 on, with the youngest two coming a bit after lunch.  I think they also enjoyed the day.  Especially they liked the hot wheels bargains – 7 cars for $5.  Lots of car track races going on around our place.
By the way, congrats to Curtis out of Bellevue who won the $100 discount .  We look forward to helping you with your project sometime in the coming months.  Speaking of projects, we have lots of potential ones lined up now including cleaning up brick in an old building in time for a graduation and several classic cars that Kyle is going to love having a small part in the restoration process.  We may even get to help restore a glider swing as well.
Now we are just waiting.  Primarily for the machine to be finished, so we can pick it up in Texas.  Waiting for our final business details to come together. Waiting to have pictures to show you of completed projects rather than possible ones.
Thanks again to all of you for your support.